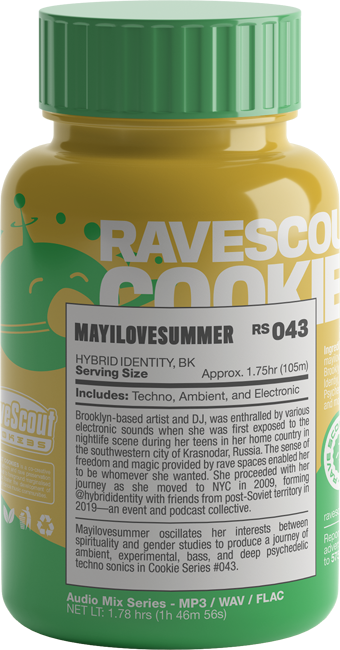 HYBRID IDENTITY, BK
---
mayilovesummer, Brooklyn-based
artist and DJ, was enthralled by various electronic sounds when she was first exposed to the nightlife scene during her teens in her home country in the southwestern city of
Krasnodar, Russia.
The sense of
freedom
and
magic
provided by rave spaces enabled her to be whomever she wanted. She proceeded with her journey as she moved to
NYC
in 2009, forming
hybrid identity
with friends from post-Soviet territory in 2019—an event and podcast collective.
MAYILOVESUMMER oscillates her interests between spirituality and gender studies to produce a journey of ambient, experimental, bass, and deep psychedelic techno sonics in
Cookie Series #043.